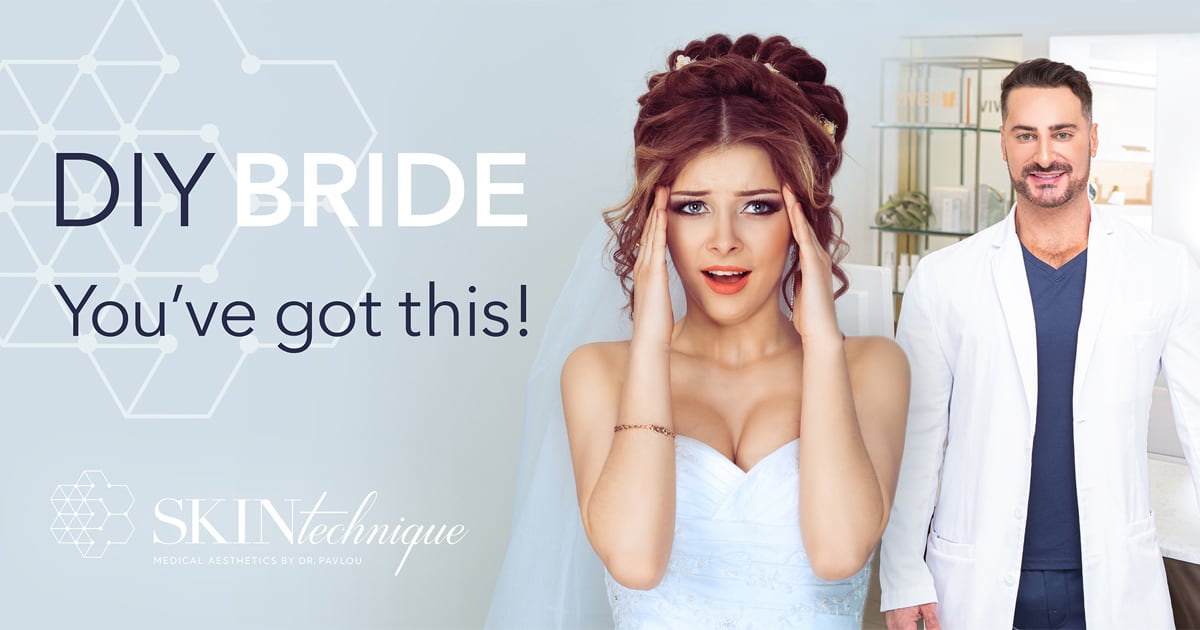 Hi ladies, especially all of our brides-to-be.
Right up until our forced Covid-19 temporary closure we were seeing so many beautiful young women eagerly planning their wedding-prep skin treatments. We sat with you and diligently planned your skin treatments and products for the weeks and months leading up to the big day.
Not only were we seeing brides, but also their friends, mothers, bridesmaids and grooms – all wanting to look their best for one of the most special days of their lives.
We are so sorry for all of you that have had to cancel your destination or local weddings, have had to significantly reduce the number of guests, or have had to postpone to a later unknown date. I guess there is never a good time for a global pandemic to arrive unexpectedly and ruin everyone's plans. What this unfortunate situation has taught me is that we have to accept the things we cannot control and somehow try stay positive when times are really tough.
So…..lets all simultaneously yell at the top of our lungs "F#@K YOU COVID-19!!!!!
Just kidding, but not really.
What we DO have control over is our skin care routine at home. Yes, you will not be able to get those Hydrafacial and Aquagold treatments right before your wedding. And we won't be able to botox away some of those forehead lines or microneedle those little imperfections. But we CAN help you make sure you are doing all the right things in the weeks and days leading up to your wedding day to ensure your skin is as smooth, hydrated and glowing as possible. Only this time, YOU are doing all the work 🙂
1. At home peel.
One of the best skin care secrets is THE RETINOL STIMULATION PEEL.
This one is easy but so effective! You apply 5 pumps of the Radical Night Repair by ZO Skin Health twice a day for 3 days.
Expect some redness and peeling to occur, but you will see a dramatic improvement in skin texture and quality. Sunscreen is mandatory when performing this peel! We recommend doing it at least 3-4 weeks before your big day.
2. Exfoliation.
Healthy, flawless skin requires a smooth texture. The key to good texture is frequent exfoliation. This helps cleanse the skin, remove impurities and dead skin cells. Exfoliation also helps with product penetration!
My favourite exfoliators are:
Exfoliating Polish by ZO, use 2-3x a week before cleansing.
Retexturing Activator by SkinCeuticals is a favourite of my staff.
Exfoliating Accelerator by ZO.
Micro exfoliating scrub by SkinCeuticals is a beautiful product for gentle, daily exfoliation.
3. Brightening.
Now is the time to start any brightening protocols since they take at least 4 weeks to start lightening pigmented areas and skin tone.
For our patients with hyperpigmentation or melasma we recommend the Vivier 2% Hydroquinone Hyperpigmentation Program. This comprehensive program has all the products you will need, from cleanser to sunscreen, to help brighten even the most stubborn pigmented areas. We also love Lytera by SkinMedica for daily, gentle brightening.
4. Collagen Stimulation.
Since we won't be able to perform all your favourite collagen boosting procedures it will be up to you to be diligent with your products that help increase the production of your own natural collagen for skin that is plump and dewy.
It is no secret that I favour one particular product for its incredible anti-aging properties – TNS Essential Serum by SkinMedica. It is packed with human derived growth factors and peptides.
The Growth Factor Serum by ZO is a more affordable option for very good collagen stimulation and helps provide antioxidant benefits to the skin.
The new kid on the block which has become a cult favourite is The Firming Serum by ZO. This product has an almost 100% SATISFACTION RATE, which is almost unheard of!
5. Hydration.
Keeping your skin hydrated with active ingredients will nourish and protect it throughout the day. Hydration helps combat fine lines and a dull complexion, neither of which are welcome on anyone's wedding day!
The Daily Power Defense by ZO is a best-selling moisturizer. This product is packed with active ingredients and everything you would want in an ideal moisturizer. At night our skin goes into repair mode, so infusing it with a continuous supply of moisture makes so much sense! Our recommended product for over-night hydration is Dermal Repair by SkinMedica. Another beauty secret tip is to keep skin hydrated throughout the day with a few drops of deep-penetrating hyaluronic acid. Try out the HA Intensifier by SkinCeuticals but be prepared for some seriously gorgeous hydrated skin!
6. All about the eyes.
The TiredEye™ Treatment is one of our most popular procedures at the clinic, but the next best thing is using the right skin care products specifically formulated for the eye area.
The Total Eye Concentrate Kit by Colorescience is a fantastic product that includes an eye roller with concentrated serum, and 12 hydrogel eye masks that help combat puffiness and dark circles. This is a non-negotiable!!
7. Protection.
Finally, you have to always protect your investment! Daily sunscreen use is essential to avoid wrinkles and pigmentation. The Forever Young BBL is not an option until we are open again! So please remember to apply sunscreen daily, even if you are self-isolating — we tend to sit near a window or on a balcony when the sun is out. This also causes sun damage! During these times of Covid-19 it is important not to touch your face without washing your hands first. I have always really liked the Sunforgettable brush-on sunscreen, but now I love it even more because you can apply it without touching your face!
Who knew something like this would ever happen? I am still in shock, and saddened by our new reality. BUT, life goes on. You are still going to be a beautiful bride, a handsome groom, a sparkling bridesmaid and anyone else who is allowed to attend….
Follow these skin care guidelines for the weeks leading up to your wedding day, and when you get a chance, please email or DM us a picture!
All of the products mentioned are available for purchase. Products that don't appear on our online store can be purchased via email or phone and can be delivered right to your door.