Microdermabrasion vs. Microneedling – Which Is Best for Your Skin?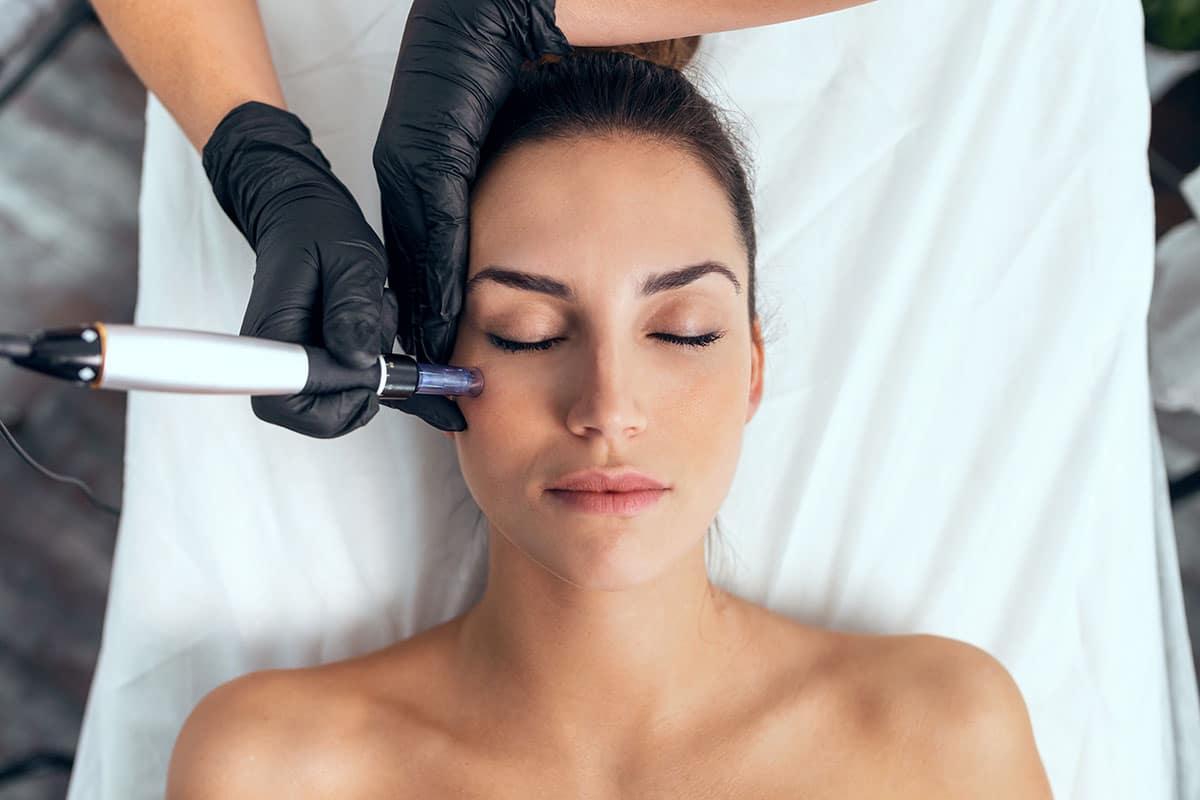 Microdermabrasion and microneedling have grown in popularity over the past few years due to their collagen-stimulating properties, lack of invasiveness, and quick recovery time. However, microneedling may boast better results for certain candidates than microdermabrasion – and vice versa.
In this post, we'll cover the differences between microdermabrasion and microneedling, the pros and cons of each treatment, and how to choose the best option for your skin.
What Is Microneedling?
Microneedling is a non-invasive treatment that stimulates collagen production by using tiny needles to puncture the skin's surface and trigger its natural healing response. This collagen production improves skin texture, evens out hyperpigmentation, and reduces signs of aging, amongst other benefits.
How Is It Performed?
Microneedling uses a device that has hundreds of tiny needles inside of it and is handheld. It makes controlled wounds on the skin to trigger the body's healing response and promote collagen production.
The results often boast improved skin tone and texture and a reduction in wrinkles, acne scars, hyperpigmentation, enlarged pores, stretch marks, and even hair loss.
What Are the Risks and Benefits Associated with Microneedling?
Benefits of microneedling include:
It is suitable for all skin types and tones.
It can reduce wrinkles and scars and improve the look of sagging skin.
There are few risks involved as it is minimally invasive.
It is quick and convenient.
It is more affordable than most fillers or laser treatments.
Downsides associated with microneedling include:
It may take a while for results to fully appear.
It is more invasive than alternatives like microdermabrasion but boasts longer-lasting results.
It is unsuitable for pregnant women or those with skin conditions, infections, or blood disorders.
What Is Microdermabrasion?
Microdermabrasion is a non-invasive treatment that uses a form of mechanical exfoliation to resurface the skin's top layer – it is a less aggressive treatment when compared to dermabrasion or chemical peels, as it buffs minor to moderate impurities and concerns off of the skin.
How Is It Performed?
Microdermabrasion uses a wand to buff the skin's top layer like sandpaper cleaning a wall before painting it. The wand exfoliates the skin by spraying tiny crystals on the surface and scraping off dead skin cells with a textured diamond tip.
This exfoliation often results in brighter, even-toned skin and can improve the look of textured skin, acne scars, wrinkles, and hyperpigmentation. Microdermabrasion is often combined with other procedures as it does not boast long-lasting results.
What Are the Risks and Benefits Associated with Microdermabrasion?
Some benefits of microdermabrasion include:
It is a safe and gentle procedure.
It is suitable for all skin types and tones.
It is quick and convenient.
It boasts a range of benefits, including softer skin and reduced acne scarring.
Some downsides of microdermabrasion include:
It requires at least six treatments to see results.
You will need to attend maintenance treatments afterwards.
It can only treat minor concerns.
It is unsuitable for pregnant women or people with active acne, cold sores, or skin conditions.
Similarities and Differences: Microdermabrasion vs. Microneedling
Although both microdermabrasion and microneedling can improve skin texture, tone, acne scars, and signs of aging, they present more differences than similarities.
Microneedling can also treat skin conditions such as alopecia, stretch marks, hyperhidrosis, or rosacea, while microdermabrasion is better suited for minor concerns such as dull complexions or sun spots. Microdermabrasion is also limited to face and body treatment areas, while microneedling can be performed on the face, scalp, hands, and body.
Finally, microneedling boasts longer-lasting results than microdermabrasion. Microdermabrasion is like a lovely facial that buffs and polishes your skin, while microneedling is a deeper treatment that rejuvenates your skin and concerns.
Recovery
Microdermabrasion is extremely gentle and requires no downtime. You may experience minor side effects such as redness, swelling, and slight bruising, but these will all disappear after a few days. You should avoid scratching the treatment area or visiting tanning beds and hot baths for one week following your treatment and do not perform strenuous exercise for 24 hours after your treatment.
Microneedling can cause redness, swelling, and some bruising in the treatment area, but these side effects will dissipate after two weeks maximum. Avoid tanning, strenuous exercise, and applying pressure to the treatment area for the first week to minimize side effects and promote quick healing. You can return to your regular activities and work the same day.
Cost
Microdermabrasion varies in cost depending on your skin concerns, desired outcome, and the number of sessions you need. Microneedling is similar in this sense, as the treatment's price depends on how many sessions you require and the size of the area being worked on. Contact the Skin Technique team to book a consultation and determine a treatment plan that works for you and your budget.
Results
Microneedling results can take several weeks to reveal themselves, as new collagen growth takes months to show after your treatment. You may require more sessions, but once results begin to show, they last a long time and only get better.
Microdermabrasion results usually appear after 5-16 treatments, and you will require maintenance appointments if you want your results to last for longer or if you want to touch up your skin.
Although microdermabrasion is less invasive and boasts cheaper sessions than microneedling, microneedling requires fewer sessions – meaning you pay less in the end.
Concerns
Microneedling can treat and improve skin problems such as:
Fine lines and wrinkles
Enlarged pores
Scars/acne scars
Uneven skin tone or texture
Age spots
Stretch marks
Dull-looking complexion
Sun damage
Microdermabrasion can treat skin concerns such as:
Fine lines
Light stretch marks
Uneven skin tone
Minor scarring
Which Areas Can Both Procedures Treat?
Both microneedling and microdermabrasion can be used on your face and body. Microneedling can also be performed on your scalp, while microdermabrasion cannot.
Microdermabrasion is typically performed on:
The face (neck, jawline, cheekbones, and forehead)
Upper thighs
Buttocks
Hips
Abdomen and waist area
Which Option Is Best for Your Skin?
Although microdermabrasion and microneedling treat similar cosmetic issues, the best option for your skin depends on the severity of your concerns, the type of treatment you want to receive, and how long you want your results to last.
Microneedling is more aggressive, therefore boasting the ability to treat deeper skin concerns and conditions and have longer-lasting results. Microdermabrasion is a lighter, shorter-lasting treatment that can still improve minor skin concerns and promote collagen production.
While Microdermabrasion is better for treating sensitive or dry skin, Microneedling can more effectively treat oily/acne-prone skin, darker skin tones, and deep discolouration and texture. If you have deeper concerns or want to enjoy your results for longer while attending fewer sessions and ultimately spending less, we recommend microneedling.
However, the best way to choose between microdermabrasion and microneedling is to talk with a skin care professional. If you're located in Vancouver, the experts at Skin Technique will work hard to learn more about your skin, discuss your concerns, and work towards your desired results.