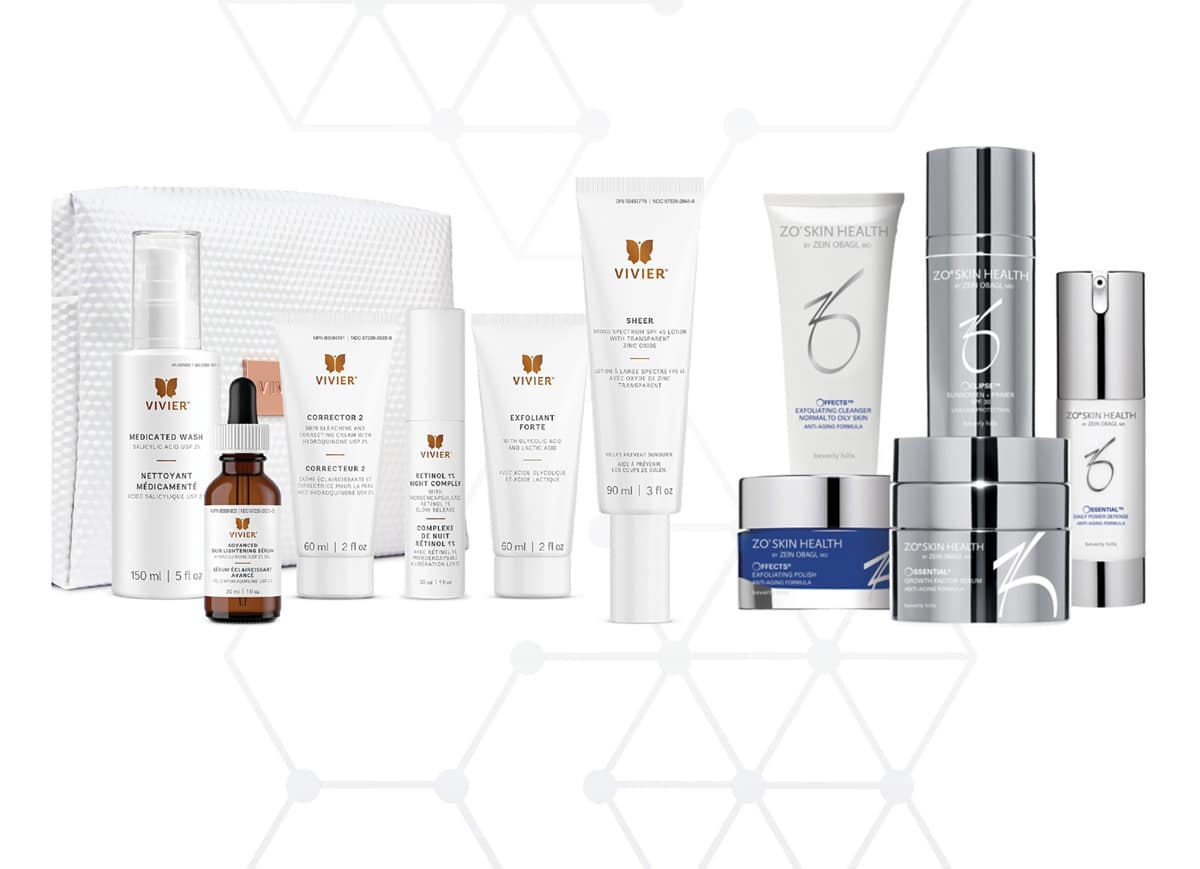 At Skin Technique we pride ourselves in carrying the top medical grade skin care brands, backed by science that deliver real results to our patients.
Although nothing beats a customized skin care plan catered to your very unique and specific needs, we have found there are common skin care issues that can be addressed with the right combination of products and instruction.
For these common concerns, we have a kit for that! See below for our recommended kits from our favourite premier medical brands.
THE "DON'T KNOW WHERE TO START" KIT
The Daily Skin Care Program by ZO is the ideal kit for you if you want to improve the overall quality of your skin by using medical grade skin care. If you fit into the category of "All Skin Types", then this kit is perfect to get you started on a proper prevention and maintenance program.
This program is your first line of defence against the natural aging process. Helps to preserve and maintain a more youthful-looking complexion and improves and maintains overall skin tone.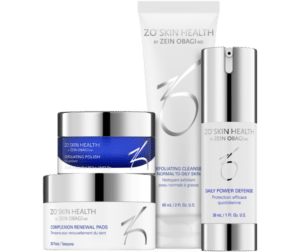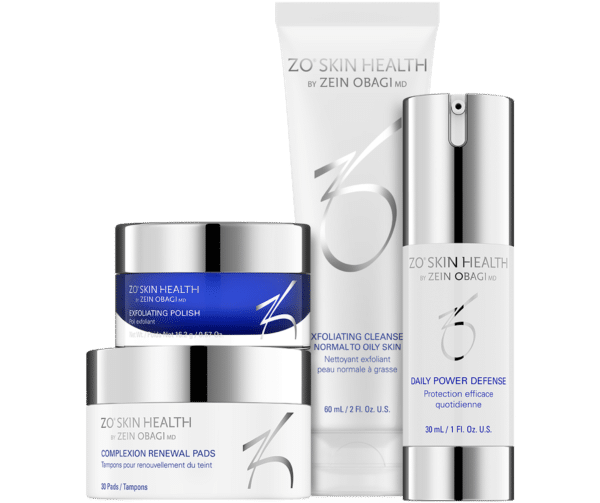 ACNE PRONE SKIN
Acne is a common condition that plagues both men and women and can occur at any age. Our favourite all-in-one program is by Zo Skin Health.
This program contains a complete line of highly effective products formulated to treat clogged pores, blackheads, pimples and cystic acne and is also a preventative treatment for acne and breakouts.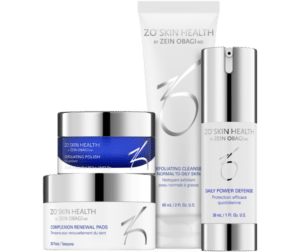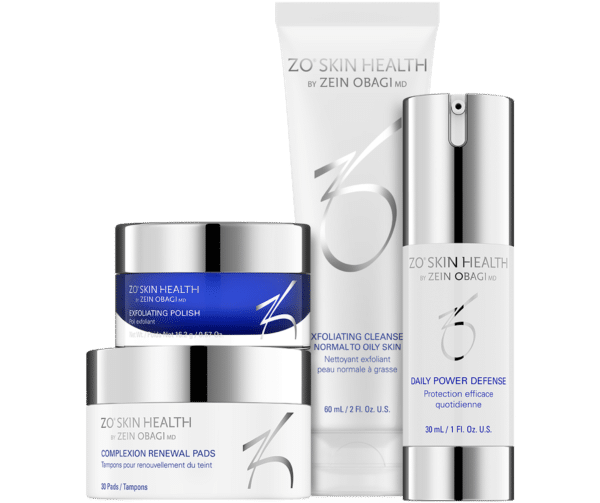 REDNESS OR ROSACEA
Do you suffer from redness or rosacea? If so, the program for you is the Redness Program by Vivier designed to address redness concerns.
The revolutionary Redness Program by Vivier calms, soothes, and reduces redness, while at the same time reducing fine lines and wrinkles, aging skin, and expression lines.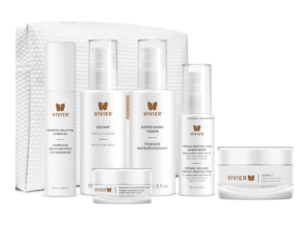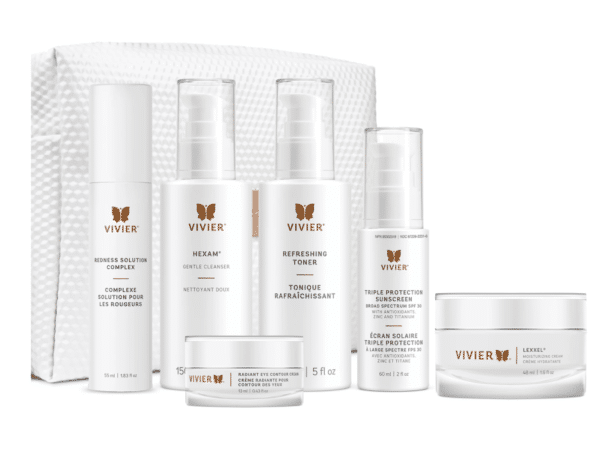 AGING SKIN
As aging happens there are many products we can recommend in addition to injectable procedures. To help take the guesswork out of what to pair with what, ZO Skin Health has created the ideal anti-aging program.
The Anti-Aging Program is ideal for treating early signs of aging such as fine lines, uneven skin tone and loss of firmness. The products use higher concentrations of active ingredients including growth factors, retinol, and specialized enzymes, to prevent and help repair moderate skin damage at the cellular level.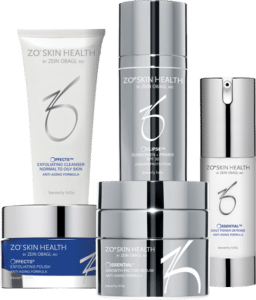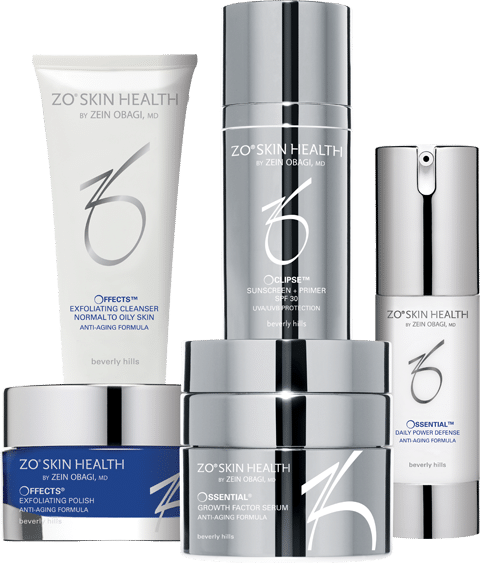 MELASMA, HYPERPIGMENTATION, DARK SPOTS
Many of us suffer from skin changes and discolouration such as melasma, hyperpigmentation and dark spots caused by an array of factors such as environmental toxins and sun exposure. If you are experiencing any of these concerns, then the Vivier Hydroquinone Hyperpigmentation Program or the Hydroquinone Kit by ZO Skin Health is ideal for you.
VIVIER HYPERPIGMENTATION PROGRAM
With the Hyperpigmentation Program (2% Hydroquinone) and just 4 minutes a day, you can erase years of skin damage. This pharmaceutical grade skin restoration program gently and effectively restores your skin's vitality and improves dark spots, aging skin, irregular skin texture and tone.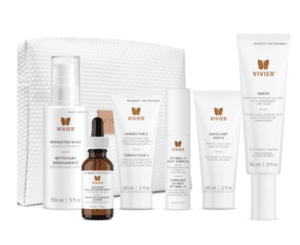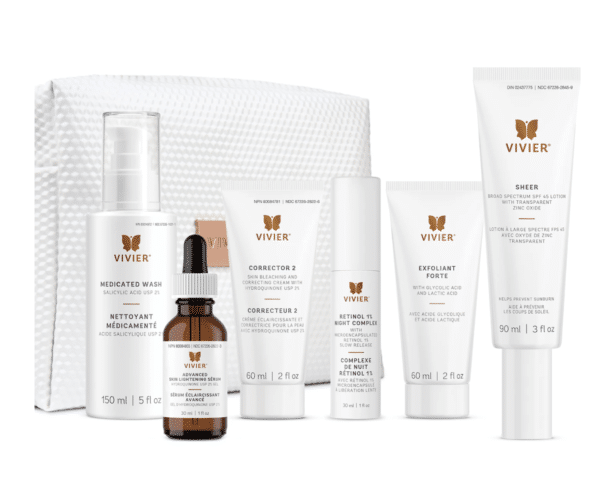 An all-encompassing system formulated to help treat hyperpigmentation, severe texture damage, sun damage and general skin health restoration.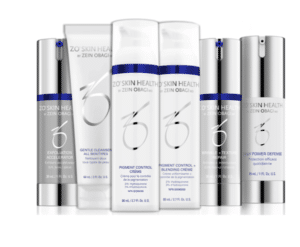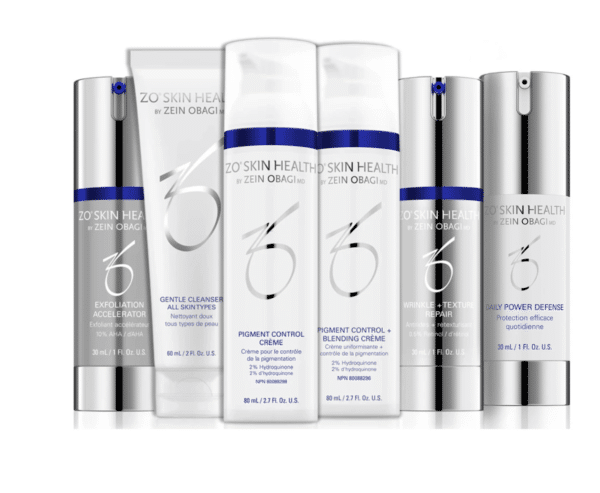 SKINCEUTICALS LIMITED EDITION KITS
For those of you who are SkinCeuticals fans (and really, who isn't?) we have the limited addition Antioxidant Authority Kits available in the clinic for a limited time.
Each of these kits comes with a reusable travel pouch and a free gift, giving you additional savings on these preventative and protective medical grade products.
ANTI-AGING KIT
Simply Clean 200ml (gift)
CE Ferulic 30ml
Retinol 0.3 30 ml
Physical Fusion 50ml
ACNE-PRONE KIT
LHA Cleanser 240ml (gift)
Phloretin CF 30ml
Blemish + Age Defense 30ml
Physical Fusion 50ml
HYPERPIGMENTATION KIT
LHA Cleanser 240ml (gift)
Phloretin CF 30ml
Discoloration Defense 30ml
Physical Fusion 50ml
WRINKLE CORRECTION KIT
Simply Clean 200ml (gift)
CE Ferulic 30ml
HA Intensifier
Physical Fusion 50ml
If you prefer to come in and have a customized skin consultation with one of our experts, we are here to assist you.
Our experienced team is here to help with recommendations and education about our services and medical grade skin care products. We are always available to help you choose the best treatment for your individual needs.