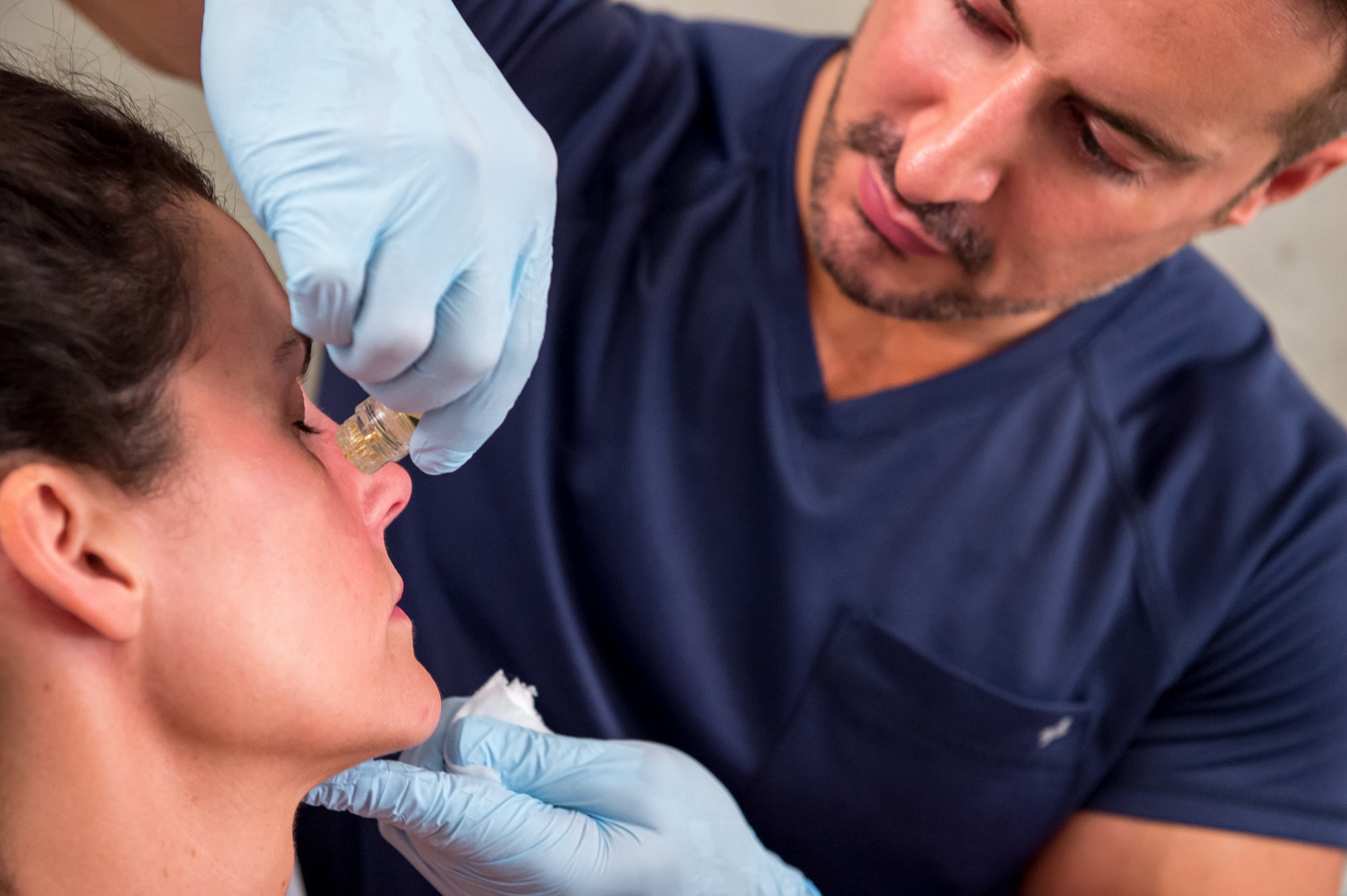 Even though I get immense satisfaction from creating beautiful lips, reshaping noses and relaxing deep wrinkles, I do understand that all of these transformations require the use of a needle. There is a large portion of the aesthetic consumer market that would like to try a treatment, but not necessarily have their faces injected. Similarly, an understandably high number of patients do not want any down time or evidence that they've had a treatment but would still like to enjoy some of the many benefits associated with these treatments. That is why I am happy to talk about the
No Needle Treatments available at Skin Technique.
First and foremost, regardless of whether you are interested in injectable treatments or not, the cornerstone of every efficient skin care regimen is MEDICAL GRADE SKIN CARE PRODUCTS. At Skin Technique we offer the top medical grade skin care brands. After an in depth customized skin care consultation with one of our experts or myself, Dr. Pavlou, we select and recommend the medical grade skin care products best suited to your needs. I have never believed in only using one brand. Each brand has its own unique stand out products and I will often suggest different products from the entire range that we offer.
CHEMICAL PEELS are an excellent way to quickly rid the skin of congestion, pigment and blemishes. Peels help restore glow and vitality to the face without the need for needles or lasers. I often encourage a series of monthly peels to correct skin concerns and then maintenance peels every 2-3 months as needed or 10 days before a special occasion. Our range of peels at Skin Technique range from light to deep and are customized to your needs. Chemical peels offered at a medical aesthetic clinic will always be superior to at home peels or spa peels as we have the ability to condition and prepare different skin types for the different kinds of peels we offer. My philosophy has always been that if you're going to invest your time and effort in a chemical peel it may as well be a medical grade peel with measurable results.
DERMASWEEP is literally sweeping up all the awards at multiple aesthetic shows. It was voted best multi-function device at the Aestheticians Choice Awards 2018. What could be better and less invasive than a gentle microdermabrasion followed by a skin infusion of customized ingredients like peptides, growth factors, vitamins and fruit acids? Whether your skin needs an instant hydration boost or you are preparing for a special event (think Red Carpet Ready infusion) Dermasweep is the ultimate luxury facial that requires no needles or down time.
DERMAPLANING is a very popular, quick, painless treatment that instantly rids the skin of peach fuzz and the accumulation of dead skin cells. It can be done on its own or prior to other treatments as it will aid the absorption of high quality skin care ingredients. I often recommend doing dermaplaning prior to laser treatments and chemical peels and serums, or as a monthly maintenance treatment to keep skin smooth and glowing.
RADIOFREQUENCY (RF) SKIN TIGHTENING is a non-invasive needle-free way to tighten skin on the face and body. Using circular motions RF energy is sent to multiple layers of the skin simultaneously, which stimulates the body's natural collagen. The energy is delivered through a variety of hand pieces, which are customized for different areas. This treatment specifically gained a lot of recent popularity when Kim Kardashian revealed that it was her skin tightening treatment of choice.
FOREVER YOUNG BBL is an IPL (Intense Pulsed Light) treatment that uses light energy to gently heat the upper layers of the skin. Forever Young BBL is the only device that has been shown to change the expression of genes associated with aging, longevity, and increased lifespan. With regular Forever Young BBL treatments your skin will look clearer, smoother and younger.
LATISSE is a non-invasive way to achieve thicker, longer lashes. Latisse is applied to the roots of your eyelashes (at home) and will extend the growth phase and increase the number of hairs that sprout!
AQUA GOLD technically uses tiny micro needles to gently stamp a proprietary cocktail of super ingredients into the skin but it is absolutely painless and a great alternative to traditional microneedling that can leave the skin quite red for a few days. This treatment provides lovely results by gently stamping the face and simultaneously infusing skin with a blend of tiny doses of botox, hyaluronic acids, vitamins and serums.
Whether you regularly receive injectables or simply want to spruce up your skin care regimen non-invasively, there are several options available that won't require needles, discomfort or down time. Everyone can benefit from a No Needle Treatment.  Honouring Your Beauty for us also means ensuring you are comfortable and feel well taken care of. We respect that while needles help us achieve beautiful transformative results every day, not everyone feels like getting poked! Fortunately we have many No Needle options for you to choose from.
For more information on the No Needle Treatments offered at Skin Technique please call 778-945-7505 or email us at info@skintechnique.com today!