Break Down the Science of Facials with Skin Technique 
Maintaining healthy skin is the root to aging gracefully. And one of the foundations of aesthetic medicine is facials, dating back to the ancient world. Though one thing is sure, we are all looking for a way to achieve a radiant complexion! 
This article addresses common inquiries Skin Technique often encounters about medical-grade facials. We will dive into questions like the precise definition of medical-grade facials, their ability to enhance skin quality, and the scientific basis for their effectiveness.  
Together, we will uncover medical-grade facial's incredible advantages and proven results. 
What Are Medical Grade Facials? 
Medical-grade facials are the most gratifying way to brighten up your skin, get a deep exfoliation, and give the skin much-needed hydration. They are administered by medical aestheticians, guided by physician-led protocols.  
This distinction allows our treatment providers to use clinic-grade solutions for treating deeper onto the skin (epidermis), which is not normally performed in a spa. This can effectively target surficial sun damage, pigmentation, discoloration, acne scars, fine lines, and wrinkles, and smoothens the skin's texture. 
What are the Active Ingredients in a Medical Grade Facial?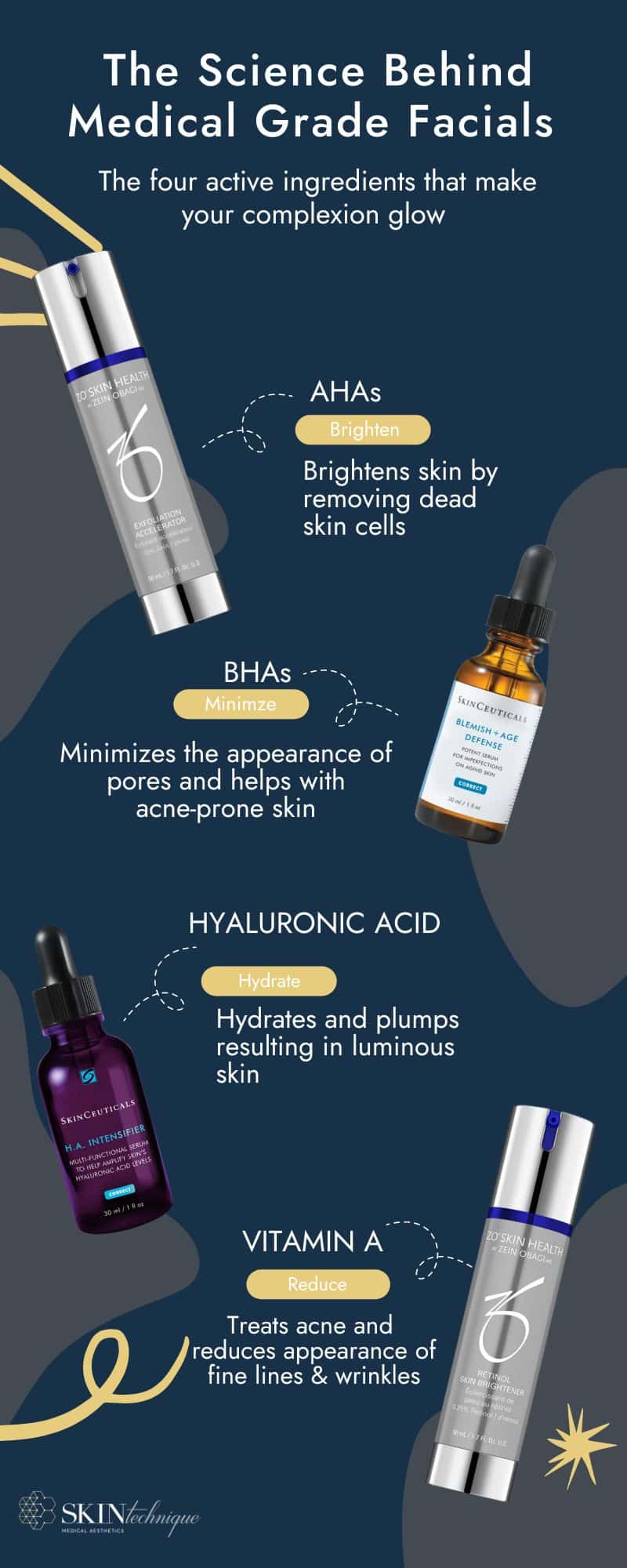 Medical-grade solutions can consist of glycolic acid, a blend of alpha-hydroxy acid (AHA), beta-hydroxy acid (BHA), or a trichloroacetic acid (TCA), which is a stronger and deeper medical peel – giving you better results, faster. 
AHAs are naturally found in fruits and milk, which work to reveal a brighter and more even complexion by removing dead skin cells.  

BHAs, on the other hand, are great for penetrating deep into your pores and are often included in products for people with acne-prone skin. A common BHA is 

salicylic acid

. 

Hyaluronic acid is a naturally occurring humectant in our skin, responsible for keeping our skin hydrated and plump. Using hyaluronic acid in facials will give your skin a luminous and hydrating boost. 

Vitamin A, also known as retinoids, was originally used to treat acne but with further clinical research, it has been proven to reduce the appearance of fine lines and wrinkles. 
These peels are designed to speed up cell turnover, eliminating dead skin cells sitting on our skin and eventually exposing fresh skin cells – creating a brighter and smoother complexion.  
Consistency is key to medical-grade facials if you have a specific skin goal in mind. Your clinician will suggest the best interval between treatments, though a monthly appointment is typical for cumulative benefits. 
Medical Grade Facials at Skin Technique 
Chemical Peel
Chemical Peel: This is a fast and effective way to give your skin a revitalizing and illuminating boost. The peel is a chemical exfoliation treatment that gently lifts dead skin cells while mildly improving the skin's ability to regenerate collagen and elastin. This process will resurface new and fresh skin cells, resulting in a smoother and dewy complexion. The solution is a blend of AHAs and BHAs. 
HydraFacial
HydraFacial: This luxurious 3-in-1 facial is a clinic favourite for beginners and patients between treatments. HydraFacial is powered by a Dermal-infusion technology, which exfoliates, extracts, and hydrates the skin. 
While the treatment gives your skin an immediate glow after the treatment, it's also an excellent long-term solution for treating dry and dehydrated skin, aging skin, minimizing the appearance of pores, and brightening the skin. 
Dermaplaning
Dermaplaning: This is a facial treatment that is a solution for dealing with dull skin or peach fuzz. Using a medical-grade scalpel, it gently abrades the skin's surface to remove vellus hair (peach fuzz) while also polishing the skin free from dead skin cells sitting on the surface. 
Bonus tip: This treatment can be added to a HydraFacial or AquaGold to maximize serum absorption into the skin. 
AquaGold
AquaGold: This facial uses microneedles to penetrate nourishing serums below the skin's surface. These needles are finer than human hair and are designed to create tiny microchannels on the skin.  
These microneedles are attached to a vial filled with a customized solution tailored to address specific skin concerns. These solutions may include hyaluronic acid, vitamins, peptides, antioxidants, and other beneficial ingredients that can improve the overall appearance and health of the skin. 
Vampire Facial
Vampire Facial: The Vampire facial is a unique blend of two advanced therapies, Platelet Rich Plasma (PRP) and Microneedling. Through ultra-fine needles, Microneedling triggers the regeneration of skin cells at the surface level, unveiling fresher, radiant skin beneath. Adding PRP into this procedure escalates the process, with its growth factors significantly enhancing tissue repair and comprehensive skin revitalization.
Microneedling
Microneedling can treat deeper into the skin by creating controlled micro-injuries to promote collagen production. Collagen is a protein responsible for the skin's structure and firmness. Over time, this protein slows down with age and lifestyle, resulting in fine lines, wrinkles, and sagging skin or laxity.  
Microneedling helps speed up collagen production, which can visibly reduce aging concerns and acne scars – whether it's icepick, scarring, atrophic, or hypertrophic acne scarring. With the addition of PRP, the growth factors from this cause an increase in tissue healing and overall skin rejuvenation. 
Excited to Start Your Skincare Journey with Skin Technique? 
We are too! Situated in Yaletown, Vancouver, Skin Technique is home to a team of passionate skincare specialists under the leadership of Dr. Christopher Pavlou. We're committed to accompanying you on your journey to skin health. Our individualized treatment plans are crafted with careful consideration of your concerns, objectives, and budget. Our utmost priority is to equip you with a holistic strategy for accomplishing your skincare aspirations.
Book your consultation today to find out which facial treatment is best for your concerns and learn about medical-grade skincare and other science-backed treatments that can pair beautifully with your skin goals!