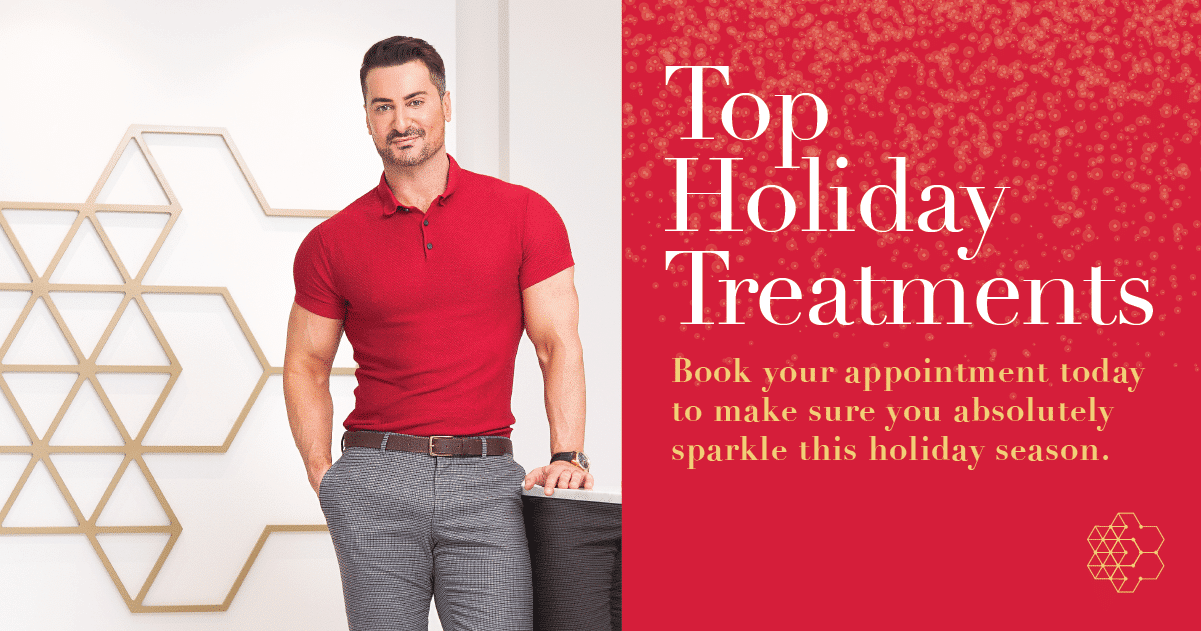 Tis the season to be merry, and look your best. We statistically attend more events and parties in the last quarter of the year than the rest of the year combined. Its the busiest time of year for most people, including cosmetic clinics. Everyone is in the mood to spruce things up – from their homes to their faces and bodies, so we have chosen the top 4 holiday treatments at Skin Technique to discuss!
Almost every injectable patient I see asks me for a treatment that will make them look like a rested, rejuvenated version of themselves. The typical patient does not want to be unrecognizable when they walk out the door. Thats not to say there is anything wrong with those that like their features augmented more dramatically for a completely different look. I personally agree with the philosophy of looking like the best version of oneself. This is why I created the MystLift – a completely customized procedure that utilizes discreet amounts of anti-wrinkle injections and different dermal fillers to achieve a rejuvenated and natural result. I think this is the perfect treatment to get holiday ready and picture perfect for all the festivities and family gatherings without raising any suspicions.
The Forever Young BBL is the only laser proven to change the expression of DNA to reverse back to a youthful, healthy state. Though this treatment is often compared to IPL photofacials, they are vastly different. There is only one kind of BBL technology that is standardized. There are hundreds of different IPL devices. Some are good, and some aren't, and they are not created equally. This means that the number of treatments, down time, complications and efficacy differs amongst them.
With the Forever Young BBL treatment you can see an improvement in brown pigmented areas, vascular lesions and overall skin health after just one treatment. We typically recommend a series of 3-5 treatments for beautiful, even-toned skin.
Lets face it, we all battle with a stubborn area of fat that diet and exercise can't get rid of. For men its usually the abdomen and love handles, for women its often bra fat, upper arm fat and thighs. With visible results as quickly as one month after one treatment, Coolsculpting is the worlds nr. 1 body contouring device for good reason. Whether its aiming to look your best for the holidays, or getting rid of stubborn fat for your winter getaway, we are blown away time and time again by the outstanding results achieved with CoolSculpting at Skin Technique.
For those who want to veer away from injectables and lasers, and simply want to boost the quality of their skin, increase hydration and luminosity without any downtime at all, there's the Hydrafacial.
The Hydrafacial is a medical grade hydra dermabrasion device that carries out a patented three-part regimen that involves cleansing, exfoliating and infusing the skin with carefully selected medical grade skin care products. It can be customized by adding growth factor or brightening boosters to your facial and with fun add ons like the eye and lip perks. The Hydrafcial can also be combined with just about any of our other treatments to further hydrate the skin and keep it luminous and glowing throughout the holiday season.
These are our top 4 holiday treatments. They are all safe, customizable and either performed by a doctor or under the supervision of a doctor. May your days be merry and (your skin) bright this holiday season!